Wealth Wire
Gold is Breaking Out, In Oil Terms
Posted by Wealth Wire - Wednesday, October 10th, 2012
The ratio of Gold ($GC_F, $GLD) to West Texas Intermediate Crude Oil ($CL_F, $USO) has been in a symmetrical triangle pattern for the last 18 months after a 2 year stint in a consolidating channel. Now, breaking above the triangle, it has a target of 29.80 from the pattern. There is support from the rising and bullish Relative Strength Index (RSI) and a positive Moving Average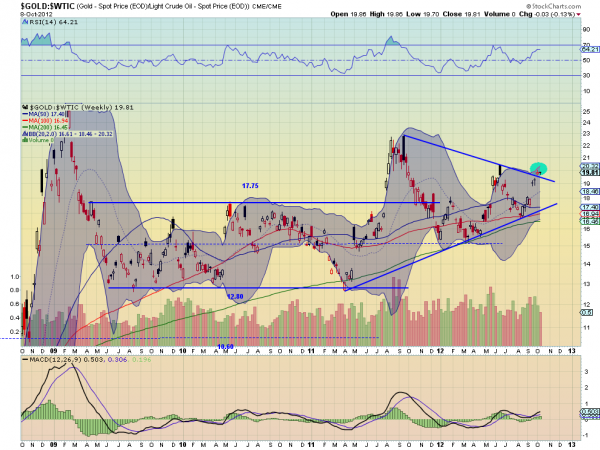 Convergence Divergence indicator (MACD) for more upside. Also notice that the Bollinger bands are opening higher. This can play out by Gold moving higher, or higher faster than Oil, and or Oil moving lower or lower faster than Gold. But with Gold looking strong and Oil weak you may already have an idea of which way it may play out.
*Post courtesy of Greg Harmon at Dragonfly Capital.
-6
Add a Comment
(Pro Members Only)
More like this...
Why It's Time to Buy More Oil and Gold Now
The most likely scenario is a gold mania followed by a...
A Bullish View on Gold -- Priced in Oil, That is....
A telling analysis of gold priced in West Texas crude...
Silver and the Shift to Measuring Wealth in Ounces Instead of Dollars
Silver is making its intention to pass the $50 level clear