Wealth Wire
CHART: Copper Less Optimistic Than Stocks
Posted by Wealth Wire - Monday, November 14th, 2011
Copper is often referred to as "Dr. Copper" with a Ph.D. in economics due to the metal's ability to foreshadow future economic outcomes. Copper tends to confirm lasting bottoms in stocks. For example, copper bottomed in the fall of 2008, several months before stocks bottomed. Note the extremely bullish volume on the bottom right of the chart below.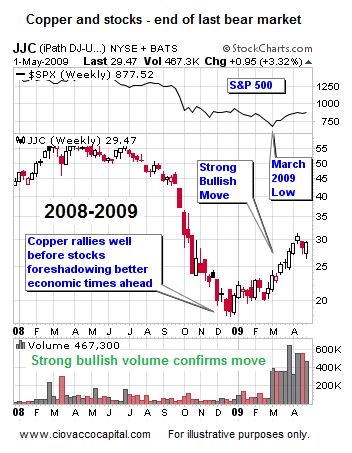 Compare the bullish read from copper in late 2008/early 2009 above to the present day chart of copper below. Copper remains in a downtrend. Copper tends to be a big winner after a lasting bottom in stocks. Today's trading volume on JJC, the copper ETF, is on pace to cover only 50% of the volume seen on a typical day. If there was confidence in the current rally, the interest in copper would be much greater.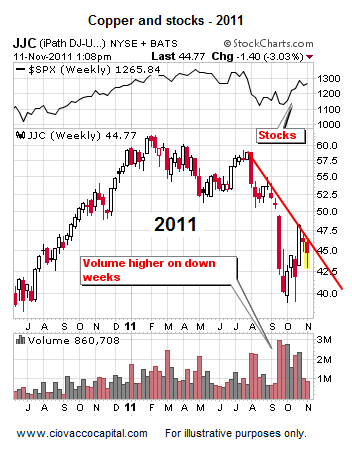 *Post courtesy of Short Takes.
+7
More like this...
Dying For Copper
Our own Ian Cooper talks about the bull market in copper, and the extreme lengths thieves are willing to go to get their hands on it.
Fed Announcement Scares Down Gold, Copper Prices in Replace of Cash
Gold hits its third week of slumping figures while copper is continuing to drop after Bernanke's "significant" risks begin to scare people away.
What Copper is Saying About Your Money
Copper trends can predict where and how should you be protecting your wealth...