Wealth Wire
Qatari Royal Family Goes on Gold Shopping Spree
Posted by Brittany Stepniak - Tuesday, October 4th, 2011
It's not a typical shopping spree, but these aren't typical times either.
The Qatari Royal family – one of the most powerful and prestigious ruling bodies of Qatar – intends to heavily invest in a plethora of natural resources thorugh their wealth fund. Gaining access to gold is their #1 motive.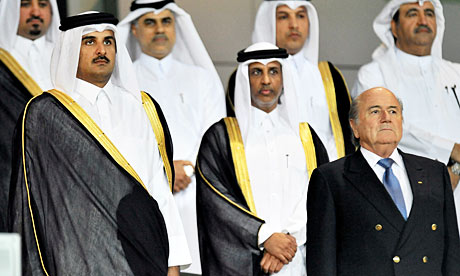 Image courtesy of theguardian.
Just how much do they plan to spend on this strategic move to protect their investment portfolio? Oh, just a mere $10.4 BILLION.
Sounds like they, like millions of others, are seeking a safe-haven amidst the broad devaluation of currencies around the world...the dollar especially.
Yesterday, Qatar Holdings, which controls the wealth of the Middle East state's royal family, confirmed it would invest about $US1 billion in European Goldfields, a London-listed miner currently developing the largest gold-mining project in Greece.
''Qatar Holdings have done a systematic and detailed study of the gold sector,'' said Ken Costa, who put the deal together. ''They chose European Goldfields because [chairman] Martyn Konig is very experienced - a 30-year veteran in the gold market.''
While Mr Costa would not comment on future likely targets, the Qataris are known to have been focusing in particular on opportunities in Africa and Russia. The valuation of North American gold miners was said to be too high.
Overall gold price us up by 14 percent so far this year even with the recent (semi-sharp!) correction.
Meanwhile, shares in listed gold miners have been under-performing this year. European Goldfields shares slumped down by a dramatic 41 percent. However, the Qatari fund has obtained a 9.9 percent stake in European Goldfields from the Greek construction group Ellaktor and Dimitrios Koutras (a Ellaktor director). "Qatar Holdings will also provide a $US600 million loan facility at an interest rate of 7 per cent."
It's a rather ballsy investment decision, but it will create approximately 1500 jobs after the investment is finalized. This is great news for the Greek economy...an investment that will have long-term impacts for Greece.
+7
Add a Comment
(Pro Members Only)
More like this...
Investing in Zinc: A New Bull Market is Born
Why zinc is poised for a gold and silver type run-up...
Metals are Still in a Bullish Market
After worst commodities drop since 2008, precious metals -- especially gold -- are surprisingly still in a strong position...
Gold Down, Stocks Continue Falling as Greek Fears "Destroy Bank Credibility"
Commodity prices are down across the board in major thanks to Greek fears. Why the Greek market shock will be "bigger than Lehmans".