Wealth Wire
Battle of the Tractors: Deere vs Caterpillar
Posted by Wealth Wire - Wednesday, October 31st, 2012
Many eyes are focusing on the price action in Deere, $DE. After it broke above 83.75, resistance since February, the stock looks ready to keep traveling higher. Currently attempting to move higher out of a bull flag it has resistance at 87 and 88 before free air to move higher and the Measured Move would take it to 90. With support from a bullish and rising Relative Strength Index (RSI) and a Moving Average Convergence Divergence indicator (MACD) that is crossing to positive it is truly a great trade set up.
Deere, $DE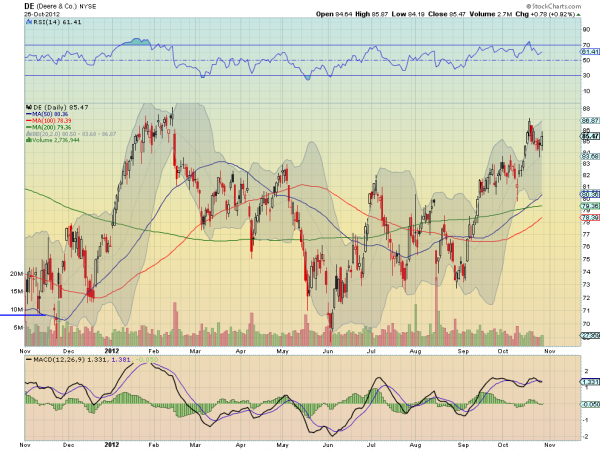 But if you move a little earth, digging below the surface, there might be a better play in beaten up Caterpillar, $CAT. The ratio chart below of Caterpillar to Deere carries a lot of information. There are two trendlines that help define the bullish and bearish picture over the last 3 years, with the pertinent information today in the green support line and red resistance line in the bearish phase for the ratio. Also note the marked areas on the RSI at the top, when it has moved into technically overbought or oversold areas, coinciding with the ratio at the trend line or vastly extended. Finally the MACD signal crosses at the bottom have been the trigger when all three line up.
Caterpillar vs Deere, $CAT vs $DE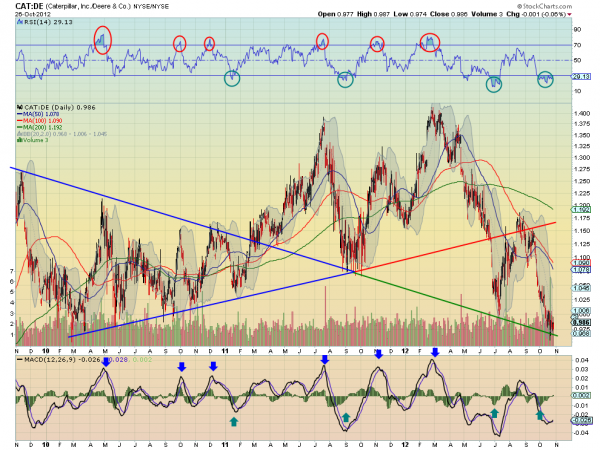 And the ratio is signaling a trade trigger right now with the RSI bottomed, the MACD crossing up and the ratio on support. The moves off of the bottom have averaged over 20%, and a 20% move would just coincide with a touch of the resistance trend. That is a 20% move in Caterpillar relative to Deere. Think of what that means. If Deere does not move at all then it equates to a move to near 102. But since Deere looks poised to move higher towards 90 the Caterpillar move would rise to over 105. There is nothing wrong with driving a Deere higher to 90, but the better opportunity may be found in Caterpillar.
*Post courtesy of Greg Harmon at Dragonfly Capital.
+1
Add a Comment
(Pro Members Only)
More like this...
The Redneck Portfolio: Gettin' Drunk and Fixin' Stuff
It's a good ole' boy summer, so here's how to build up your own "redneck" portfolio...
Agriculture Stocks Set to Boom
Why the billionaires are buying up land in record numbers, and how you can get in on the action...
Thirsty for Profits? Buy This Now...
Remember, droughts are temporary...here's what to buy for the rebound.