Wealth Wire
The Best Beer Stocks for the Holidays
Posted by Wealth Wire - Tuesday, December 6th, 2011
Many beer stocks have run higher over the last few months, but it may not be too late to get in. You just need to check to see if the move is getting old and skunky, if it is fresh and young, or about to be restocked. Let's take a look at several.
Anheuser-Busch InBev, $BUD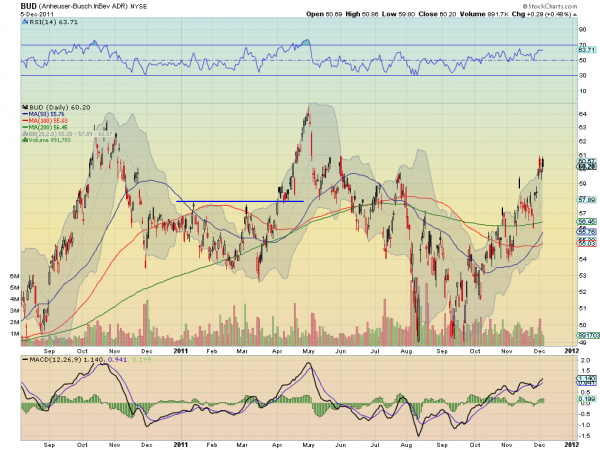 One of the first things that tells me the Holidays are approaching is the commercials for Budweiser with the Clydesdale's prancing through the snow. From the chart of Anheuser-Busch InBev, $BUD, above it seems that the Holiday march started in late September from a Double Bottom. Since then it is up over 24%. It is printing a Double Top Monday, which if confirmed by a move lower Tuesday, will signal a reversal. Until then the trend remains higher, but adding to the reversal story is that it is also at resistance hit twice in May. The Relative Strength Index (RSI) remains bullish though, as does the Moving Average Convergence Divergence (MACD) both supporting more upside. A move over 61 would be a fresh buy signal.
Boston Beer, $SAM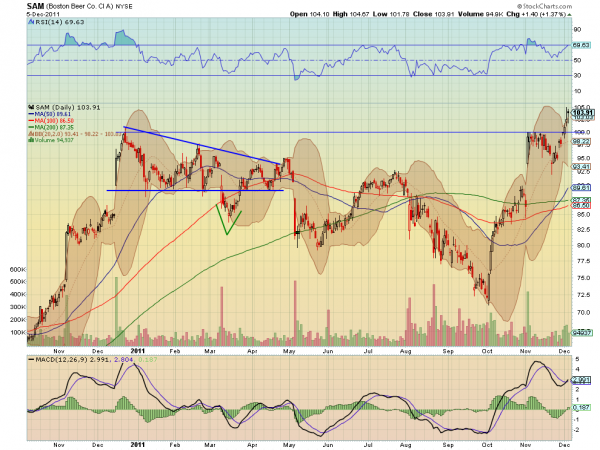 Another sign of the season is when Sam Adams releases its Winter Warmer. From the chart of Boston Beer, $SAM, the makers of Sam Adams, the first holiday run started in early October finding resistance at the previous high at 100, before pulling back. Then the release of the Old Feezie Wig Ale started a new run that broke through that resistance taking it to an all time high. It has printed back to back potential reversal candles which if confirmed lower Tuesday could bring a retest at 100. But the RSI is still bullish and strong and the MACD has just crossed positive. Both support more upside. A move over 105 refreshes the uptrend with a target on a Measured Move ultimately to 125.
Molson Coors Brewing, $TAP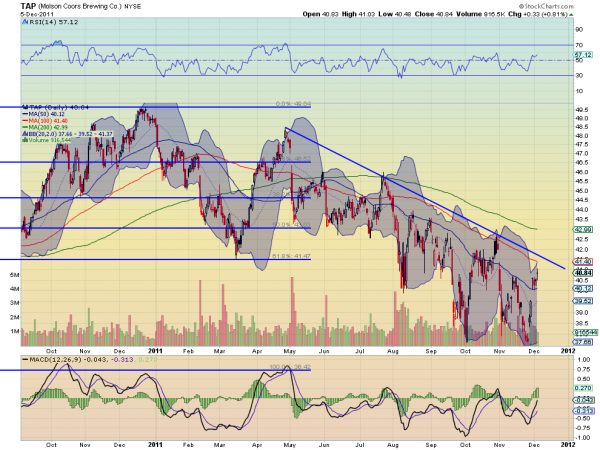 Molson Coors Brewing, $TAP, the makers of the Coors Light Silver Bullet and Molson Golden have not hit that Holiday stride, trending lower since May. But it has been running higher lately off of a Double Bottom at 37.50 and is now breaking above a bull flag at 40.50. The target on the Measured Move is to 43.50. This would put it through the down trend line near 41.50 and above the previous high at 42.50. The RSI is pushing up against 60 and trying to turn bullish while the MACD is positive and increasing, both supporting more upside. A break above the trend line is a good tradeable entry that could lift into the Holidays.
*Post courtesy of Greg Harmon at Dragonfly Capital.
+6
More like this...
Hyperinflation and the Next Depression
"I just got back from a week in Nairobi, and I was stunned by the high prices..."
Gov't Shutdown Leaves Minnesota Without Beer
The government shutdown in Minnesota is having some unintended consequences...
As Cost of Beer Rises, So Does Threat of Violence
Security officials buckle-down to protect the peace at Oktoberfest as inflation hits beer prices...