Wealth Wire
Herman Cain's Top Three Hotel Choices
Posted by Wealth Wire - Wednesday, November 30th, 2011
I was looking through the charts of hotel stocks and noticed that many of them are looking stronger and ready for a push higher. With so many to choose from I called in an expert, Herman Cain, to give me his insight into which chains may have a bit of an edge from, lets say, activity outside of the normal overnight stay. Here were his top 3 choices with some analysis.
3. Marriott International, $MAR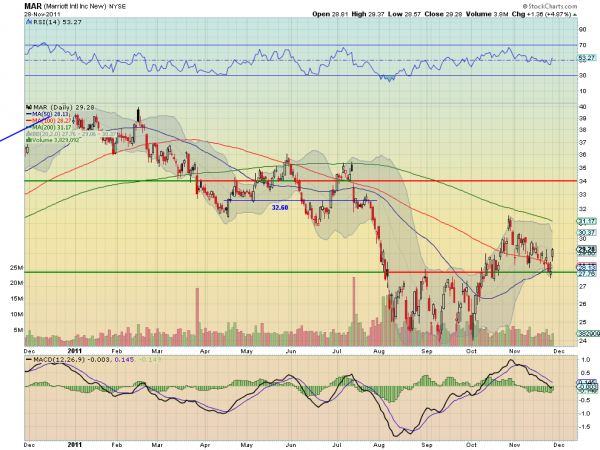 Herman cited Marriott International, $MAR, for its 13 brands and Mormon attitudes (I think he was referring to multiple wives). They are never more than a few miles away, a key criteria of his. Looking at the chart it shows a fall back from the October high that found support last week at long term support/resistance at 27.80, and where the 50 day Simple Moving Average (SMA) is about to cross positively through the 100 day SMA, printing a Morning Star reversal candle. The move higher today confirmed that reversal and opens it up for a move higher to 31.25 to complete an up and Handle formation and then much higher above that. The Relative Strength Index (RSI) is breaking the downtrend to the upside and the Moving Average Convergence Divergence (MACD) indicator is improving, both supporting more upside.
2. Choice Hotels, $CHH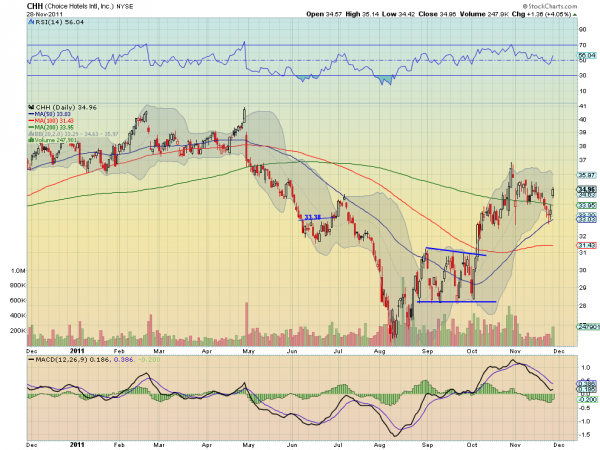 His number 2 pick was Choice Hotels, $CHH, also has 11 brands and over 6000 locations but these typically cost a bit less, so for a retired CEO on a fixed income these are good for repeat business. The chart also shows a reversal pattern with doji from last Wednesday confirmed higher on Friday and then the gap up Monday. The RSI is rising rapidly after only barely breaking the mid line lower and the MACD is improving toward the zero line, as the volume picked up on the move higher. A move over 35.50 has more upside.
1. Starwood Hotels & Resorts, $HOT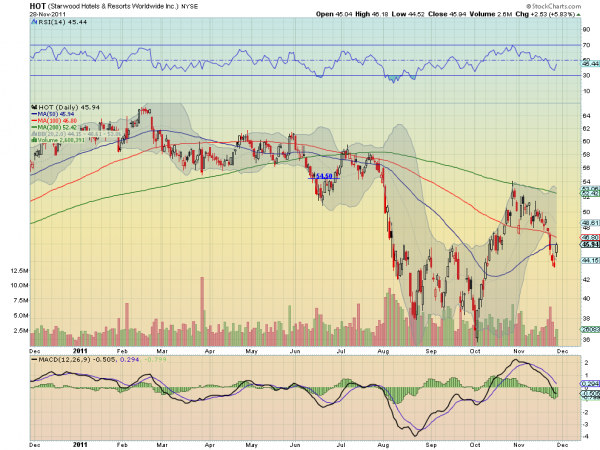 And Herman's number 1 pick was Starwood Hotels & Resorts, $HOT. Asked for an explanation he told me to just look at the name 'Star'-'Wood' and the ticker $HOT. Enough said. The chart however looked much more bearish before Monday's action. It was in a downtrend with a falling RSI and a MACD that was growing more negative. All three indications reversed direction Monday though with the RSI kinking back higher, the MACD beginning to improve and the price jumping higher to the 50 day SMA. This chart is a bit more suspect about moving higher but a further move higher over resistance at 47 will ease those fears.
*Post courtesy of Greg Harmon at DragonFly Capital.
+6