Wealth Wire
Stocks Dropped 54% After Similar Point in 2008
Posted by Wealth Wire - Wednesday, October 26th, 2011
If you owned shorts (SH, RYURX) or conservative investments (TLT, WHOSX, UUP) in the last bear market, there was a painful 14.4% countertrend rally in 2008 where all these investments underperformed significantly (lost money as stocks went straight up). For those who remained patient and stayed with the primary downtrend, rewards followed as stocks erased 100% of the "powerful move".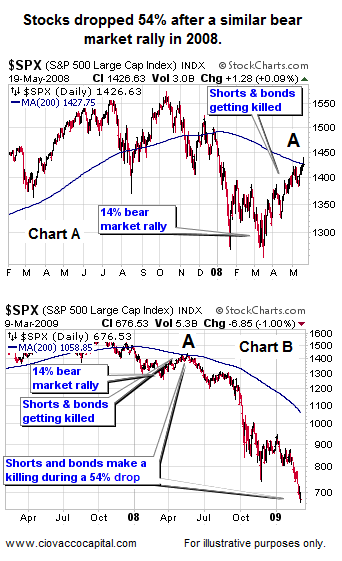 The similarities between the bear market rally in 2008 and the current rally remain in place. Compare the points described below in chart one and chart two (at bottom):
Points A & B: Downward sloping and parallel trendlines, which are bearish, helped bound both the lows and the high (in 2008).
Point C: It is common for bear market rallies to end between the 100-day and 200-day moving averages. The 2008 rally spiked above the 200-day briefly, but that marked the end of the rally.
Point D: The market broke out of a trading range in a bullish manner.
Low '08: The March 2008 low that sparked the 14% rally occurred at 1,256. Yesterday's closing price was 1,254. 1,254 acted as support in 2008 - it may act as resistance in 2011. Compare Low '08 in first and third chart below.
Point X in Chart One: Stocks dropped 54% after peaking in May 2008.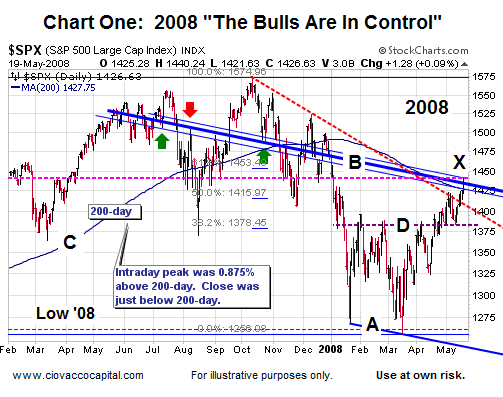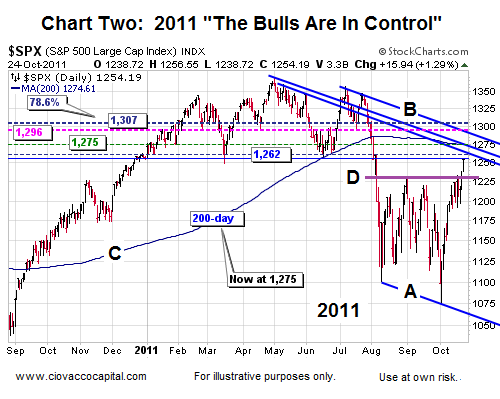 The line labeled "Low '08" below is the same S&P 500 level (1,254) labeled "Low '08" in Chart One above.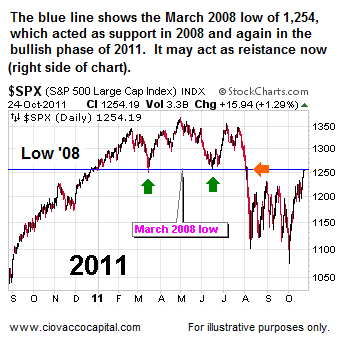 *Post courtesy of Short Takes.
+4
More like this...
This Stock Pays Monthly Dividends AND a 14% Yield
When it comes to what to put in your portfolio, it really helps to know where to look...
Agriculture Stocks Set to Boom
Why the billionaires are buying up land in record numbers, and how you can get in on the action...
10 Billion-Dollar-Stocks for Under $10!
These companies have stocks trading on the S&P for less than $10 with market-cap valuations up to $64.86 billion!