Wealth Wire
Double-Dip Recession Fears Wane, Oil Futures AND the Dollar Gain
Posted by Brittany Stepniak - Tuesday, July 5th, 2011
Today, July 5, 2011, crude-oil futures climbed up by $1.44 to $96.36 per barrel this morning, and up to $96.87 by 3:13 p.m.-- jumping 1.5% for August delivery.
WTI Crude Oil
$96.87 ▼0.02 0.02%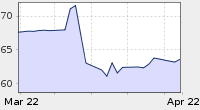 Overall, the commodities market looks optimistic today after last week's upward trend for the U.S. economy. Michael Lynch, president of Strategic Energy & Economic Research suggested that the previously exorbitant fears of a double-dip recession seem to be fading.

Typically, oil prices "tend to trade inversely" to the dollar index, but the optimism about the U.S. economy helped to lift both.

In the past month, oil prices lost over 5% after the International Energy Agency announced 60 million barrels would be released to counterbalance the shortages created by the crisis in Libya.
According to MarketWatch:
"In the coming week, we are monitoring the progress of IEA stock release. There are some concerns there is a lack of coordination and transparency outside the U.S., and the 60 million barrels that the IEA decided to release may not be absorbed by the market, due to the weak recovery," said Chung Yang, oil analyst with Philip Futures in Singapore.
Take a look an updated crude-oil price chart by clicking here.
Check out the updated dollar index here.
+4
More like this...
Jim Rogers: 'Crude oil prices will continue to rise for years'
Jim Rogers takes on oil prices, his favorite currency and why the dollar is losing status as the world's reserve currency.
Dividend Hikes Expected for Commodity-Based Companies
Demand for commodities set to soar for years to come. Shareholders soon to see higher gains.