Wealth Wire
Top 10 Best Places to Retire
Posted by Brittany Stepniak - Wednesday, October 17th, 2012
If you plan on using some of your retirement money to invest in a comfortable new home, look no further. We've taken a myriad of variables into consideration in order to help you narrow down your choices to ensure you live these years to the fullest potential and are still able to save some money for your grandchildren too...
Top Ten Best Places to Retire in 2012:
Albuquerque, New Mexico -

Perhaps the most important features of this location include the below average cost of living – average home price runs about $163,000 – combined with phenomenal weather. Albuquerque is famous for its diversity as well as its beautiful landscaping and scenery. The town is famous for its annual hot-air balloon event taking place each and every October – it's the world's largest event of its kind!
Additionally, you need not worry about finding a good doctor in the vicinity. Albuquerque is known to have plenty of successful doctors. This is good news for all you active-retirees who will likely find yourself engaging in more sports-oriented recreation in this entertainment-dense city. Whether you break your collarbone skiing or simply pull a back-muscle in an afternoon golf-session, you won't have a problem finding a quality doctor nearby.
If high-impact sports aren't your thing, you can still enjoy a picnic lunch along the Rio Grande river after an afternoon shopping in the downtown district. Or you can hike through the Sandia Mountains on a pleasant autumn morning before eating homemade sopapillas for lunch while on your way to the galleries filled with ancient petroglyphs.
Just be alert for an above-average crime rate, although locals say it's relatively easy to steer clear of the problem areas.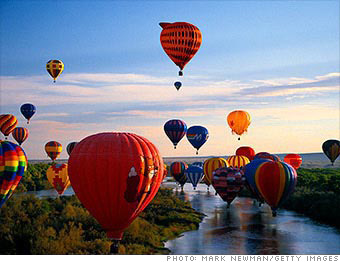 Alexandria, Louisiana – The average home price here is even lower; approximately $148,000. While living comfortably in a sizable home, you can also expect to enjoy an exceptionally warm climate and very good air quality. Economically, this city does well and taxes aren't out of control either.
Geographically, Alexandria rests in the very center of Louisiana, on the south bank of the Red River. It is smack-in-the-middle of the Longleaf Pine forests. It's a relatively humid subtropical climate with mild winters – only occasional cold snaps.
In terms of entertainment, Alexandria is a hot-spot for Mardi Gras and celebrators of Cenalabration, one of the largest festivals in Central Louisiana, it reflects local culture, heritage, and Labor Day as the summer draws to a close every year. History museums and baseball are also popular forms of entertainment and recreation in Alexandria.

*Image courtesy of RT Morgan • rtmorgan@thetowntalk.com
Portland, Oregon –

If you love big cities, Portland may be the place for you. The median home price is about $272,000, the top state income tax rate is 9.9% and there is

no sales tax

.
Foodies and bikers will find a sense of home in Portland's culture while retirees of all kinds will find it easy to find their niche in this "thriving but manageable" city.
Geographically, Portland houses one of the largest urban forests in the U.S. Wine country and serene beaches are just a short drive away.
If you're concerned about some personal health issues, you'll be comforted to hear that Portland is home to several award-winning hospitals, such as Oregon Health & Sciences University, whose research center attracts experts and patients from around the country.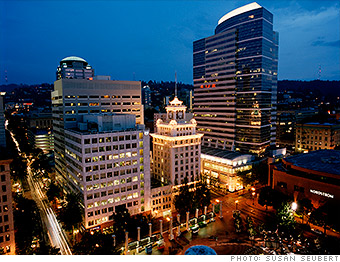 Asheville, North Carolina –

Another city full of southern charm, Asheville also boasts a moderate cost of living, a pleasant climate, abundant doctors, and mountains made for autumn-lovers and hikers alike.
Interesting Asheville fact: America's largest privately owned home, the 259-room Biltmore House, is nestled in a cozy corner of Asheville. Aside from this anomaly, the average home price is about $198,000.

The only major con to living here is the high unemployment rate, which is why we recommend it for retirees who won't have to become part of that struggle.
*Image courtesy of Philip Scalia/Alamy


Louisville, Kentucky –

Most famous for the annual Kentucky Derby held here the first Saturday of May each year, there's entertainment to be found in Louisville all year long.
Concert series, bluegrass in particular, are a popular leisurely activity of Louisville residents. If you prefer theater, you can see local and high-quality Broadway performances in the Kentucky Center for the Performing Arts.
If fitness is your goal, you'll surely enjoy a daily stroll or bike-ride along the Louisville Loop, a path for pedestrians that connects several parks, neighborhoods, and other attractions. When the Loop is completed, it will stretch over an impressive 100 miles!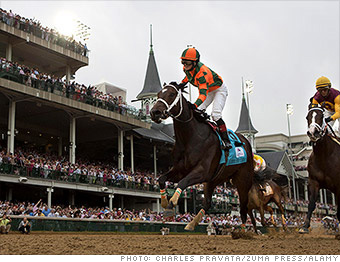 Atlanta, Georgia –

It seems as though my whole live, friends and family have been raving about this place – the young and old alike. The climate is desirable, the cost of living is more than reasonable, taxes are fairer than they are in most places, and there's a strong sense of community and commitment to volunteer projects.
The average home price is only $96,000 and you won't be settling for less than the best when you realize all that Atlanta has to offer...
Even your college-aged-grandchildren will be anxious to fly down and see you for summer vacations to camp out by a pool and frequent all the popular night-clubs in the evening!

The only thing to be wary of is the below average air quality...
*Image courtesy of Thinkstock

Tucson, Arizona –

If you suffer Seasonal Depression, Tucson is the perfect solution to your winter-blues. With 350 days of bright, sunny skies, several dozen well-groomed golf courses, award-winning Southwestern food, and a lively city to boot, you won't be disappointed making your life here...
If culture and history are your cup of tea, you'll be thrilled with all the archaeological sites, local mining towns, the Saguaro National Park and the reconstructed dwelling of Dankworth Village.
If you're more of an outdoorsy-type, there are almost as many mountains to explore as there are museums. No matter what you're in the mood for, you'll be glad to know you can do it on a sunny day in a beautiful city.
Financial stats reports a $148,000 median home prices with the top state income tax rate at 4.54%.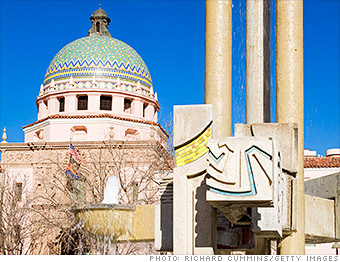 Austin, Texas –

If you're a big-city music love, you've got to at least visit Austin if not move here. Although the median home price ranges from $188,000-$215,000, you'll be paying to become an integral part of a vibrant city with more than 20 city-run recreational centers with at least three that cater specifically to the needs and interests of seniors.
The art, music, and culture here exude passion, hard-work, and vivacity. Whether it's the South by Southwest's lollapalooza of music, independent film, ballet, the Shanghai Quartet, or just the impressive technology, you won't be disappointed...
As always, it's nice to know you won't have to fret about health care since the city harbors plenty of doctors with terrific care and treatment reputations.

*Image courtesy of Ben Blankenburg/Stockphoto

Bloomington, Indiana –

As a university town (home of Indians University), Bloomington has a good and stable economic record.
The cost of living is average and the average home costs roughly $144,000-$160,400. There's low crime and the cost of living is 2.50% lower than the average cost of living in the U.S. Job growth is positive and the town houses a diverse and thriving arts community.
Current retirees have called Bloomington "lovely" and "one of the best places we've ever lived." It's not flat like most of Indiana – it is hilly and aesthetically pleasing. The downtown area is filled with "eclectic" shops and fine-dining restaurants. The atmosphere is welcoming and summers and autumns are reported to be especially beautiful.
Lake Monroe is nearby and offers residents plenty of boating, swimming, and fishing opportunities. So if you enjoy the outdoors and are looking for a family-friendly place with highly educated people for your family to visit, Bloomington might be the home-location for you.

*Image courtesy of Forbes
Winston-Salem, North Carolina –

Winston-Salem proudly offers retirees many benefits including affordable housing, top-notch health care, and a dynamic arts scene. It hosts an internationally recognized film festival and the University of North Carolina School of the Arts is one of the most prestigious in the nation.
As one of the state's top five largest cities, Winston-Salem rests in the northwest piedmont area of North Carolina. You can expect a humid subtropical climate with cool or moderately cold winters and hot, humid summers. Average seasonal highs range from 51°F in the winter to around 89°F in the summer.
If you're sold on this kind of lifestyle – a big, bustling city full of structure, art, and an emphasis on education – you can find a town-home in the heart of the downtown area for $200,000. The top state income tax is 7.75%.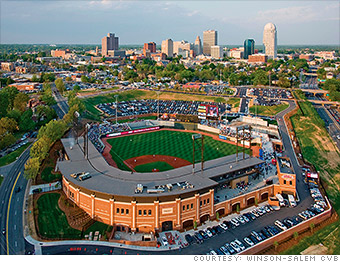 +6
Add a Comment
(Pro Members Only)
More like this...
The Federal Reserve Is Systematically Destroying Social Security And The Retirement Plans Of Millions Of Americans
Fed's low interest rate polices have "completely devastated retirement plans of many elderly Americans" -- but that's just the tip of the iceberg...
5 Steps For Picking the Perfect Retirement Home
It may be the single most important decision of our retirement...
4 Tips to Finding the Perfect Retirement Formula
Don't get too overwhelmed... here are a few important things to consider when finding the right "retirement calculator" to suit your needs.